About University Animal Hospital
Conveniently located on East 66th St. between 1st and 2nd Avenues on the Upper East Side of Manhattan, University Animal Hospital is staffed by a team of knowledgeable, dedicated and compassionate professionals working to provide the highest level of veterinary care to your pets. Under the leadership of Dr. Lawrence Andrew Zola, the staff at University Animal Hospital has consistently demonstrated compassionate, loving and reasonably-priced medical care for dogs and cats living on the Upper East Side of NYC.
Landmark of Superior Veterinary Care on the Upper East Side
For more than 25 years, Dr. Zola and his truly remarkable staff have been helping people and their pets on the Upper East Side of Manhattan. "Everyone at University Animal Hospital understands that each pet is accompanied by a concerned owner. I personally assure you that your beloved pet's health and your satisfaction are our top priorities. Our emergency policy reflects our commitment to you and your pet's health," says Dr. Zola. Just like human emergencies, pet emergencies can happen any time. The veterinarians and staff at University Animal Hospital provide complete after-hours emergency service, should your pet require immediate attention for an injury or illness after the hospital is closed.
Located at 354 East 66th Street, between First and Second Avenues, University Animal Hospital has been providing the highest quality medical care possible to pets and their owners on the Upper East Side of Manhattan for more than a quarter of a century. The practice is convenient to all pet owners and pets living on the Upper East Side of NYC.
Comprehensive Veterinary Medical Services
We offer an extensive range of veterinary services to our clients and their pets. As residents and pet owners living on the Upper East Side of Manhattan, our veterinarians are keenly aware and pay particular attention to local disease prevention and wellness care.
Your pet's preventive care begins with a comprehensive "nose-to-tail" physical examination. Not only can we detect a problem or medical condition during a physical examination, but this gives us a baseline to measure against should your beloved pet become ill in the future. We use a personalized approach to high quality pet care based on you and your pet's lifestyle. In addition to general wellness examinations and vaccinations, our hospital offers the latest advancements in internal medicine, surgery, dental care and diagnostics. To provide even greater access to superior veterinary care, our veterinarians work closely with New York City veterinary specialists should your pet require more specialized treatments or procedures. This provides even greater convenience as you do not need to leave our Upper East Side veterinary facility to seek more specialized care.
All pets requiring care at University Animal Hospital and our pet boarding guests are closely monitored and supervised by veterinary technicians, nurses and animal attendants who are on premises 24 hours a day, seven days a week.
Supervised Dog and Cat Boarding in Manhattan
Unlike most other veterinary hospitals located on the Upper East Side of NYC, University Animal Hospital offers pet boarding services and accommodations for both healthy pets and pets requiring medical attention. A veterinarian is on the premises 24-hours a day for in-house patient care and boarding supervision. When you must leave your pet somewhere overnight, choose the most responsible and caring pet boarding facility in Manhattan. Our wonderful kennel staff takes your dog for an outdoor walk at least three times a day, in addition to giving them time in our outside cage-free area.
Convenient Pet Grooming for our Friends on the Upper East Side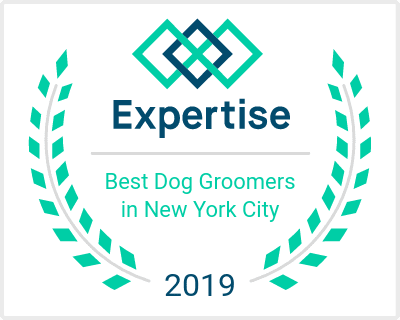 Pet grooming is performed by one of New York City's finest professional pet groomers Monday through Friday in our cage-free grooming area. Unique to your pet, his or her grooming visit includes the breed specific trim, bathing, fur conditioning and a complete blow dry. We also trim your pet's nails, clean the ears, pluck the hair from the ear canals and express the anal glands.
Since your pet's grooming session is unique, we recommend setting up regular grooming appointments. Regular grooming prevents skin problems and helps keep your pet healthy and clean. What can be easier than to have your pet groomed locally, on the Upper East Side of Manhattan, by the best groomer in NYC?