Newsletter
The veterinarians and staff at the University Animal Hospital are pleased to provide you with an online newsletter. This fun and fact-filled newsletter is updated on a regular basis.
Included in the newsletter are articles pertaining to pet care, information on our animal hospital, as well as news on the latest trends and discoveries in veterinary medicine.
Please enjoy the newsletter!
Current Newsletter Topics
Advantages Of Spays and Neuters
Health Benefits Associated With Spays & Neuters
Spaying or neutering pets is a common procedure, and most pet owners have probably had some experience with having the procedure done on animals they have owned.
Aside from the inconvenience of heat cycles and/or roaming tom cats, there are medical benefits associated to having your pet spayed or neutered. The direct health benefits of spaying or neutering are significant for the pet. If female pets are spayed before their first heat cycle, the risk of developing mammary tumors (breast cancer) is significantly reduced.
Spaying female pets eliminates the risk of pyometra, an infection of the uterus. This disease can be very serious, even fatal, in female pets. Male pets can also benefit. Neutering eliminates the risk of testicular cancer and reduces the risk of prostate disease.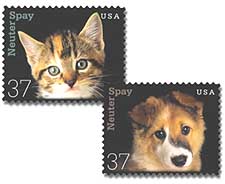 Spay and Neuter Stamps Issued by the U.S. Postal Service
Spaying or neutering can indirectly help prolong a pet's life as well. When pets are spayed or neutered, their tendencies to roam or fight are greatly reduced. This prevents the pets from getting lost, stolen, hit by cars, or contracting a contagious disease.
Cats that fight are at risk of contracting a serious disease called feline leukemia. This disease, which affects the immune system of the cat, can be passed from feline to feline through saliva or blood. Cats also run the risk of contracting feline immune deficiency virus when they fight. This disease is very similar to human HIV. It can lie dormant in the cat for quite a while, and when activated, can cause the cat's immune system to function improperly.
Spaying or neutering dogs can help keep them under control. Dogs that have not been spayed or neutered are more likely to wander away from home. While running loose, they have a chance of being hit by a car, getting lost, stolen, or taken to the animal shelter.
Even though spays and neuters are considered routine surgery, there is nothing routine about any abdominal surgery performed under general anesthesia. Most veterinarians consider spays and neuters to be major surgery, especially when spaying older animals that have had several heat cycles or have had litters.
Veterinarians and humane societies advise pet owners to have their pets spayed or neutered. The medical advantages have been proven. Complications resulting from these procedures are rare and pets recover from surgery very quickly. Often the day after surgery, animals are bright and alert, sometimes seeming as if nothing had ever happened.
The cost of the procedure varies depending upon the species, sex, size, and age of the pet.
How to Care for Your New Puppy or Kitten
Congratulations on your new family member! If you are new to pet ownership or a seasoned veteran, it is important to stay up to date on proper care for your new puppy or kitten.

The Importance of Nutrition
Proper nutrition is extremely important for the health of your growing puppy or kitten. For this reason, we recommend a quality food that is specially balanced for your pet's needs. Because nutrition is such an important part of good pet health, we cannot emphasize the need to feed a puppy or kitten enough quality food. When you bring your new pet in for its first examination, be sure to ask us about the diet you are feeding to make sure it is appropriate for your pet's nutritional needs.
Canned Food vs. Dry Food
This question has been steadily debated for years, "Should I feed my pet canned or dry food?" The truth is that feeding canned or dry food is a matter of personal choice and pet preference. It is important to understand that dry and canned foods are nutritionally equal. However, there are some facts that may help you in your decision making. Dry food tends to be more economical, it doesn't spoil as easily, and it is better for tartar control and tooth strength. Canned food tends to be more flavorful and provides higher moisture content. Your decision to feed canned or dry food is going to be dependent upon what you and your pet wants. Keep in mind that you can also mix canned and dry food to successfully combine economy and taste!
When to Feed Your New Pet
It is very important that your new puppy or kitten be fed at regular intervals to help prevent episodes of hypoglycemia (low blood sugar). Small breed puppies and all kittens should be fed three or four times daily after being weaned from their mothers. This should continue until around three or four months of age. At this point, you can reduce their feedings to twice daily. Larger breed puppies tend to do well on a twice daily feeding schedule. Before you commit to a feeding schedule for your puppy or kitten, be sure to ask your veterinarian which schedule is right for your pet. Feeding schedules become very important when housebreaking becomes an issue. Because young animals associate feeding with their need to eliminate, planning a good feeding schedule proves very helpful in housebreaking.
Vaccination Schedule
Vaccinations (Immunizations) are essential to the health of your pet. The most important vaccines for a pup or kitten are the series of vaccines that he or she receives post-weaning. It is critical to establish and maintain a firm vaccination schedule in order to maximize immunity against a host of debilitating and possibly deadly viruses and bacteria. When you bring your new pet in for its initial examination, a vaccination schedule is planned. For your pet's protection, it is necessary to follow this schedule rigorously. In general, puppies and kittens should be seen several times for examinations and vaccinations, completing the series at about four months of age. During this time, your pet should be provided with de-worming medication and have several fecal examinations in order to ensure that it is free from intestinal parasites. While your puppy or kitten is undergoing its initial series of vaccines, you should try to avoid exposing him or her to other dogs or cats. You should also avoid high traffic areas (streets, parks, and levees) until the vaccination series is complete. Even though your pet may have begun its series of vaccinations, he or she is still susceptible to diseases until all the vaccinations are completed.
Heartworm Preventative
Heartworm Infection is a very serious problem in both dogs and cats. Heartworms are blood parasites that are transmitted by mosquito bites. Once an animal is infected with heartworm, serious damage to the lungs, heart, liver and kidneys can result. The damage caused by heartworm can easily be fatal. If diagnosed early, heartworm disease can be treated. Though there is a treatment for heartworm, the treatment itself can be very difficult for some pets to handle.
Fortunately, there are very reliable medications that prevent heartworm infection. Dogs and cats should be kept on a monthly heartworm preventative medication. These medications are not only safe and effective, but several are combined with medications to prevent intestinal parasites and fleas.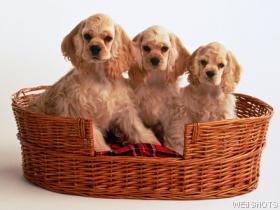 Socialization
Proper socialization helps establish a loving and lasting relationship between you and your pet. Early in your pet's life, it is very important to deal with unfavorable habits and correct them in a productive and timely manner.
One of the best ways to train your pet is to introduce it at a young age to common social situations. Some of these may include trimming nails, bathing, brushing and medicating. By introducing these situations at a very young age, they are far more likely to be accepted by the pet later in life.
For puppies, obedience training is pretty much essential. Most trainers like to start the training process between four to six months of age, after vaccinations are complete. Many capable trainers are available to help you socialize and train your pet properly. Do your homework in order to take advantage of the training courses offered in your area. Similar to children, pets' habits, both good and bad, are learned at an early age!
Grooming Your Pet
The grooming protocol you develop for your pet depends heavily on the type of pet you have. Certain canine and feline breeds demand much more grooming attention than others. In general, it is good to bathe your pets only when necessary, as over bathing can lead to abnormally dry skin. In other words, don't feel obligated to bathe your puppy once a week when he may only need it once a month.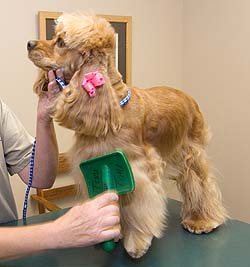 As for puppies and kittens, bathing can be performed as needed after they are weaned from their mother. It is best to avoid human shampoos, as most are too harsh for young animals. There are several good shampoos available through your veterinarian, but regardless of which type you choose, be sure to read the label carefully and address your veterinarian if you have any questions. When bathing your pet, you should also use eye protection in case shampoo gets into their eyes (either sterile ophthalmic ointment or mineral oil).
Your pet should be bathed in a warm room and tepid water should be used. When finished, it is best to towel dry and perhaps finish the job with a blow dryer. If you chose to blow dry, be sure to keep the hot air far enough away from the skin to avoid burning. Running your fingers through the fur while blow-drying is a good way to gauge the temperature.
Identification
A permanent microchip is the most effective way to ensure proper identification of your pet. It is also extremely helpful in the recovery of lost pets. Ask your veterinarian about microchipping your pet.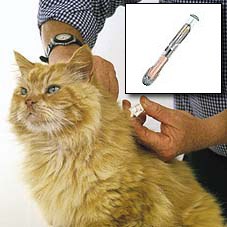 Pet Insurance
Pet insurance is a rapidly growing industry and is currently available through several companies. The insurance policies are very helpful to pet owners, especially when unexpected illnesses and injuries occur. Ask your veterinarian for information as policies vary.
Spaying or Neutering
Unless your pet is going to be used for responsible breeding, having it spayed or neutered by six months of age is highly recommended. This helps to avoid the inconvenience of heat cycles in females and provides health and social benefits to both males and females.
Pain Relievers for Pets Are Dramatically Improved
The introduction of pain relief medications for dogs has improved the lives of millions of dogs in the United States and across the globe. Some pet owners are concerned about Internet rumors of severe side effects and have chosen not to give these medications to their pets. Are these drugs safe or are we putting our dogs at risk? New research and experience trials are giving us the answers. Watch this video to learn more.
Tortoiseshell Cat
The term tortoiseshell cat refers to a coloration pattern caused by a specific genetic trait. It is not a specific breed of cat.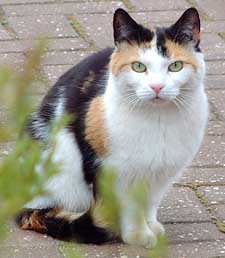 The coats of tortoiseshell cats are a mixture of colors. Tortoiseshell coats combine black, white, red or ginger, and occasionally silver or ginger tabby patterns. The size of the patches can vary from a fine speckled pattern to large areas of color. Cats with a basic white color and red and black patches are known as tortoiseshell-and-white or more commonly, calico cats.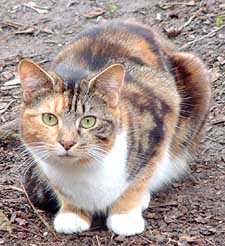 The tortoiseshell coloration is a sex-linked trait. Sex-linked genes are those carried on the mammalian X chromosome, but not the Y chromosome. In cats, the gene controlling the red color is carried on an X chromosome. The gene controlling black and other 'non-red' colors is also carried on an X chromosome. So, a tortoiseshell is formed when you combine two X chromosomes, one containing the red colors and the other containing the non-red colors.
Because two X chromosomes are necessary for this particular pattern of coloration, over 99 percent of tortoiseshell cats are females. In order for a male to be a tortoiseshell, he would need to have two X chromosomes. This condition is called Klinefelter's syndrome, and these males are almost always sterile.
Care Of The Older Dog
Within the last few decades, advancements in veterinary medicine have caused a dramatic increase in the longevity of pets. Today, dogs, like humans, are living longer healthier lives. As a result of this increased longevity, a new branch of canine medicine has emerged called canine geriatrics.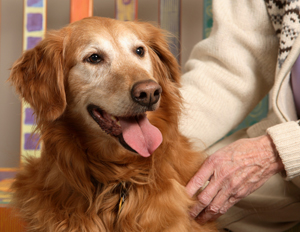 Older Dogs Require Additional Care
The aging process can be defined as the time when deterioration takes place faster than regeneration or repair. When the aging process becomes greatly accelerated, this is known as the "geriatric stage."
Not all dogs age at the same rate. In general, the larger the dog, the earlier the geriatric stage occurs. St. Bernards and Great Danes age more rapidly and have shorter life spans than Poodles and Terriers. Certain breeds have a tendency to reach the geriatric stage earlier than others. This is true for the Brachycephalic dogs (flat-faced breeds) - Boston Terriers, Bulldogs, Pugs, and Boxers. Aside from aging rapidly, the brachycephalic breeds do not age well. This is due to the respiratory problems associated with the anatomy of the face and head.
As a dog matures and reaches the geriatric stage, functional changes occur in most major organs and organ systems. Many of these changes can be anticipated and special care is required. Since each dog is unique, an individualized geriatric program must be discussed with your veterinarian.
Listed below are some functional changes that occur in geriatric dogs
General Metabolic Rate
A decreased metabolic rate is the primary change associated with the aging process. As a result, an older dog's diet must be altered. In general, compared to the diet of a young active dog, an older dog's caloric intake should be reduced by about 20%. This can be accomplished by increasing the amount of fiber in the diet. In general, diets specially formulated for senior dogs contain increased amounts of fiber.
Cardiovascular System
Heart disease is a major problem in geriatric dogs. In fact, 75% of dogs over 9 years of age have evidence of heart disease. Although this number is quite large, only about 25% of these dogs develop symptoms of heart failure during their lifetime.
The most common heart disease in older dogs is endocardiosis. Endocardiosis is a degenerative disorder of the heart valves. The valves of the heart become thickened and distorted, leaking blood to other chambers when the heart contracts. Four valves are present in the heart: the mitral valve, the tricuspid valve, the aortic valve, and the pulmonic valve. The mitral valve is most commonly affected.
Symptoms associated with heart failure include coughing, respiratory problems, fatigue, and exercise intolerance.
Medical management is often effective in controlling symptoms associated with heart disease. This includes reducing the amount and intensity of exercise, decreasing stress, lowering salt intake (homemade diets or special commercial low-salt diets), and administration of prescription medication.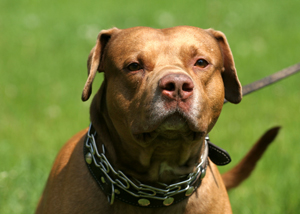 Understanding How to Care for Geriatric Dogs Improves their Longevity
Respiratory System
Tracheal Collapse in Small Dogs - This condition primarily occurs in toy and small breeds. This results from a weakening of the tracheal cartilage or the tracheal muscles. Obesity is a predisposing factor for tracheal collapse.
Bronchitis and Obstructive Pulmonary Disease - As dogs age, the normal elastic tissue of the lungs is replaced by fibrous tissue. This fibrous tissue decreases the capacity of the lungs to stretch. As a result, breathing becomes more difficult and less oxygen is absorbed into the bloodstream.
Small and toy breeds are predisposed to bronchitis and obstructive pulmonary disease.
Urinary System
As a result of the aging process, dogs' kidneys undergo degenerative changes. The kidneys normally filter waste material from the blood and concentrate urine. Older dogs' kidneys function less efficiently, and the ability to concentrate urine and eliminate waste products decreases. Symptoms associated with decreased kidney function include increased thirst, increased urine production weight loss, and occasional vomiting.
Kidney failure is a life-threatening disease of animals. It is one of the most common medical problems encountered in older dogs. Regular veterinary exams, along with blood tests, are extremely important for detecting early changes associated with kidney disease.
Bladder infections(cystitis) are also quite common in older animals. Straining during urination, increased frequency of urination, and blood in the urine are common symptoms associated with cystitis.
Dental Care
Periodontal disease (the progressive inflammation and destruction of supporting structures of the teeth) is an important cause of teeth loss in older dogs. Dental care is often neglected and should begin at an early age. Veterinary teeth cleaning is the first step in maintaining healthy gums and teeth.
Symptoms associated with advanced periodontal disease include bad breath, oral pain, and reluctance to chew food, and weight loss.
By combining regular veterinary visits with special home care, your dog can live a long healthy life. If your dog is approaching the twilight years, discuss blood testing and geriatric care with your veterinarian.
High Tech Lost and Found
For more than 15 years, pet owners have heard about the security and peace of mind that microchip identification can bring. But with new and confusing additions to the market, plus several competing database sites, just how safe is your pet? Is it possible that your microchipped pet might not make it home? This high tech identification for pets is a great idea, but may not be ready for prime time. Watch this video to learn more.